Robert Townsend was born in Downey, California in 1974. He paints highly finished images of the icons of an American Pop mythology. His unfailing eye for color and texture produce a vision of America's material culture that vacillates between nostalgia for what is lost and optimism for the continuation of American ingenuity.
Townsend's aesthetic draws heavily from his California upbringing and life in Los Angeles. Citing American painters Wayne Thiebaud and Robert Bechtle as primary influences, Townsend's work is a mixture of pop, photo-realism, surrealism and representational interpretations of largely mid-century subject matter. His exceptional technical ability is complemented by a painterly approach to color and design, with occasional whimsical elements adding a playfulness to his skillfully crafted watercolors and oils.
Photo by Richard Harbaugh
My IndianA Muse | Helen Series
In 2014, Townsend began a series of large-scale paintings that would later become the focus of the 2018 documentary film, My Indiana Muse. After purchasing more than 2500 Kodachrome slides from a single collection, Robert discovers his muse, Helen Conley. The next ten years will be dedicated to creating large scale paintings chronicling the story of husband and wife Helen and Roy, and their life and travels, as told through their slide collection.
"I think She's teaching a lesson – to me – about celebrating life." -Robert Townsend
Watch the film trailer here.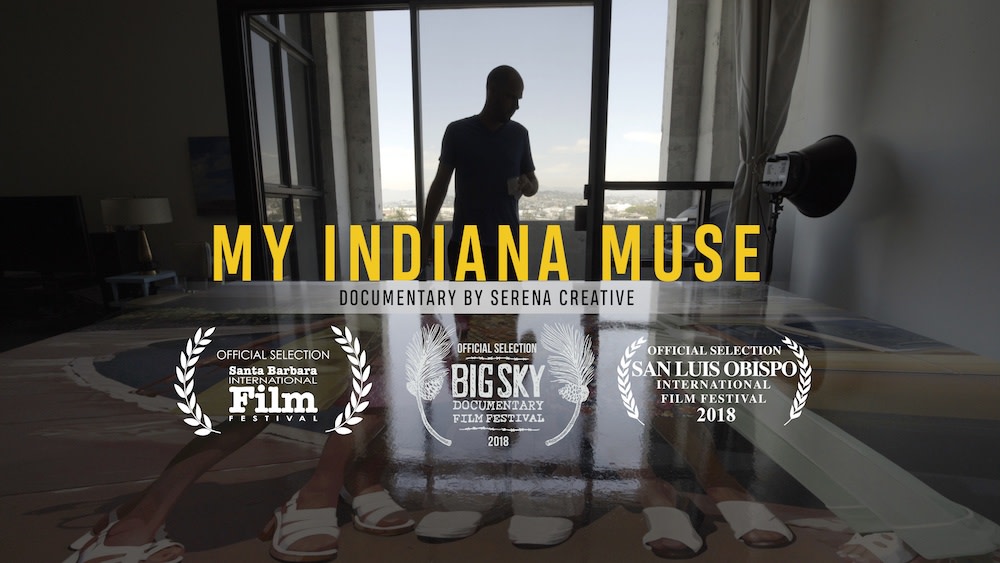 My Indiana Muse, directed and produced by Serena Creative, follows as the journey with Helen unfolds, and it is the official selection for several major film festivals including the Santa Barbara International Film Festival and the American Documentary Film Festival in Palm Springs, CA. Townsend plans to continue to create paintings from Helen's slide collection over the next decade, resulting in over 50 larges scale works. The artist is represented exclusively by Altamira Fine Art, in both gallery locations, Jackson, WY and Scottsdale, AZ.
Read more about the film at www.MyIndianaMuse.com. Find the Press Kit here.
ONE PERSON EXHIBITIONS
2020 COLOR, Altamira Fine Art, Scottsdale, AZ
2019 Blue Hawaii, Altamira Fine Art, Scottsdale, AZ
2018 Wanderlust/New Work, Altamira Fine Art, Jackson, WY
2017 Wanderlust, Altamira Fine Art, Scottsdale, AZ
2016 Dreamland, Altamira Fine Art, Scottsdale, AZ
2012 Compass and Line, Skidmore Contemporary Art, Santa Monica, CA
New Paintings, Sue Greenwood Gallery, Laguna Beach, CA
2011 New Paintings, Skidmore Contemporary Art, Santa Monica, CA
Paintings, Sue Greenwood Gallery, Laguna Beach, CA
2010 Recent Paintings, Skidmore Contemporary Art, Santa Monica, CA
2009 Robert Townsend: A Pop Mythology, Sullivan Goss, Santa Barbara, CA
Robert Townsend: New Work, Michael Hollis Gallery, Pasadena, CA
2008 Robert Townsend, New Paintings, Hespe Gallery, San Francisco, CA
2007 Icons, Michael Hollis Gallery, Pasadena, CA
SELECTED GROUP EXHIBITIONS
2018 Altamira 10 Year Anniversary Exhibition, Jackson, WY
2017 "Spring in the Desert" Altamira Fine Art Scottsdale, AZ
2015 Desert Mythos, Altamira Fine Art, Scottsdale, AZ
2013 Common Objects, Scape Gallery, Corona Del Mar, CA
artMRKT, San Francisco, CA
20th Anniversary Exhibition, Hespe Gallery, San Francisco, CA
Palm Springs Fine Art Fair, Palm Springs, CA
Route 66, Skidmore Contemporary Art, Santa Monica, CA
Pop Paradise, Lamont Gallery, Phillips Exeter Academy, Exeter, NH
2012 Candy, Skidmore Contemporary Art, Santa Monica, CA
Pop Culture: Selections from the Frederick R. Weisman Foundation, The Frederick R. Weisman Museum of Art, Pepperdine University, Malibu, CA
Common Tread: Traversing the American Landscape, Begovich Gallery, CSUF, Fullerton, CA
Summertime, Skidmore Contemporary Art, Santa Monica, CA
Palm Springs Fine Art Fair, Palm Springs, CA
2011 Winter Exhibition, Skidmore Contemporary Art, Santa Monica, CA
Poprealism, Skidmore Contemporary Art, Santa Monica, CA
April, Skidmore Contemporary Art, Santa Monica, CA
The Los Angeles Art Show, Los Angeles, CA
2010 December, Skidmore Contemporary Art, Santa Monica, CA
Americans at Play, Sullivan Goss, Santa Barbara, CA
Poprealism, Skidmore Contemporary Art, Santa Monica, CA
American Icons, Sue Greenwood Gallery, Laguna Beach, CA
The Los Angeles Art Show, Los Angeles, CA
2009 Rewind, Hespe Gallery, San Francisco, CA
LA Noir, Sullivan Goss, Santa Barbara, CA
Art Chicago, Chicago, Illinois
2008 West Coast Realists, Sullivan Goss, Santa Barbara, CA
15th Anniversary Show, Hespe Gallery, San Francisco, CA
2007 Summer Show, Hespe Gallery, San Francisco, CA
Fresh Faces, Munson Gallery, Santa Fe, New Mexico
1999 Watercolor West Exhibition, Brea, CA
1997 Watercolor West Exhibition, Brea, CA
Long Beach Arts, Watercolor, Long Beach, CA
Long Beach Arts, National Open, Long Beach, CA
COLLECTIONS
The Getty Family, CA
The Frederick R. Weisman Art Foundation, Beverly Hills, CA
Phillips Exeter Academy, Exeter, NH
Bakersfield Museum of Art, Bakersfield, CA